WHAT ARE TERMITES?
Termites are small foraging insects that dwell in large social colonies and feed on cellulose debris found in wood, soil, dung and leaf litter. There are about 4,000 species in the world, and only 10% of them are considered as pests because of the severe damage that they inflict on timber and timber-framed buildings. Termites live in underground colonies, and they're recognized as wood-damaging pests.
WHY DO I FIND TERMITES AROUND MY HOME OR BUILDING?
Generally, termites live in soils and they spend most of their time scavenging for cellulose materials found in fallen timber, wood debris, and dead plant materials. Unearthing these species is not very easy, most especially when the soil condition is optimal for termite activity.
When they go searching for food, they enter homes via tiny cracks found in the foundation of your home. Once they enter inside, they'll continue foraging and exploring till they come in contact with wood. This source of food can be any timber behind ceilings and walls. You need to be aware that a termite invasion can go unnoticed for months and even years.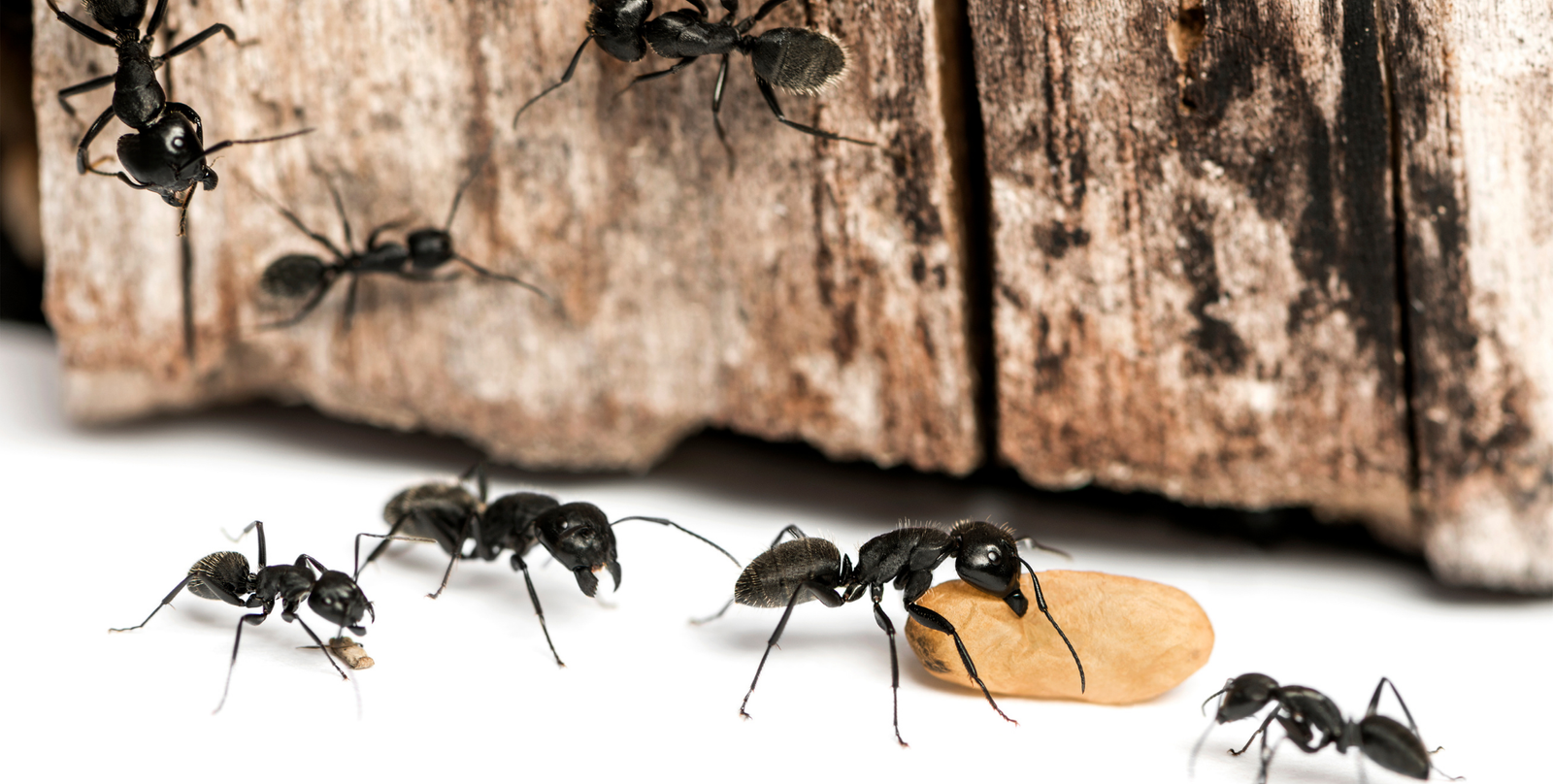 ARE TERMITES DANGEROUS?
Even though termites aren't harmful to humans, their ability to enter homes foraging for food source can cause enormous damage to structures and buildings if left unattended to.
HOW DO I GET RID OF TERMITES?
Termite extermination isn't an easy job. Because their colonies are located beneath the soil, they can scavenge for food beneath the soil at a distance that is 300 feet away from a likely food source.
In urban environments, there is every probability that you'll get to find a termite colony nearby properties or even in homes. Once these species identify a source of food, they'll use a pheromone trail to follow a series of passageways and tunnels located beneath the soil surface.
At Adibug, our pest control professionals are highly trained, and once you get in touch with us, they'll inspect your home, property, and environment for active termite infestations after which they'll propose the perfect treatment that'll help to get rid of these obstinate pests.
CAN I CONTROL TERMITES MYSELF?
The success of any termite control program is influenced by a number of factors such as structural façade, foundation type, drainage, and the location of the termite activity. When controlling these species, you need to duly consider the factors.
The "do it yourself" methods of termite control are suitable for getting rid of termites in a small and target area, and they cannot be able to cover for other unique circumstances surrounding your home. You need to know that many of the "counter products" aren't sufficient enough to stop or control the growth of a colony.
An efficient terminal control solution is dependent on careful observation, inspection, and treatments targeted at exterminating the entire colony and ending termite foraging at its source.
Confused about the termite control measure to apply? Contact Adibug today; we'll be glad to consult with you and come up with a solution that'll perfectly suit your home.
OUR APPROACH TO PEST PREVENTION
Effective pest mgt. is a process, not a one-time event. With our integrated pest manage- ment approach, we identify the best program for your needs based on scientific research and custom solutions. so you can rest assured that your business is getting maximum protection with minimum exposure. We will:

Investigate
we'll inspect your home from top to bottom, inside and out, for current or potential pest problems
Keep Watch
we'll treat the interior of your home and install pest monitors in critical areas such as kitchens, baths, utility rooms, and garages

Protect
we'll treat the perimeter of your structure with the appropriate materials, remove all accessible spider webs and wasp nests, and use the safest methods available .

Follow up
we'll stay in touch between our regularly scheduled visits and respond to any immediate needs
HOW SOON CAN YOU GET TO US?
At Adibug, we're always proud of our speedy and matchless service delivery. No matter the situation, we try as much as possible to be with you the same day you reached out to us. Or worst still, the next day.
ARE OUR TREATMENTS SAFE?
At Adibug, we take your safety and health very seriously. All our products are EPA registered for pest control usage. Also, our products are applied following a set of guidelines which ensures that they won't cause any form of damage to your family or pets.
All our pest control workers are registered and licensed by the jurisdictions where our services are offered. Some of them are Applicators certified under the health, structural, institutional and industrial related pest management category.
HOW CAN I PREVENT TERMITE INVASION IN THE FUTURE?
Even though it's almost impossible to avert termites from entering your property or home, you need to take note of the following helpful conditions:
Termites are attracted by moist soil: take proper control of poor drainage areas and pooling waters from downspouts
Termites scavenge just below the surface of the soil: do not allow piles of wood, debris, and other wooden structures to have direct contact with the ground.
Tree stumps: when shrubs or trees are removed, try to eliminate their root systems as well. Decayed stumps and roots will provide a sufficient source of food for termites.
Termites are attracted to nearly any type of wood: always try as much as possible to prevent wood to soil contact. This relates to wooden sheds, play sets, decks, and fence posts.
Termites are attracted when sprinkler systems are used to create moist soil
Termites are attracted to moisture held in decaying organic matter: always try to rake and remove mulch every year and don't allow them to build up year after year.