Ants are social insects, and they belong to the order of insects popularly known as "Hymenoptera"- where wasps and bees also fall. Because ants live in large communities and they all depend on each other for the survival of the whole colony, homeowners particularly find their problem challenging to handle. The ant colonies tend to form an underground nest that's composed of interconnecting tunnels and chambers- a place where they lay eggs, maintain nurseries and even store food.
Surprisingly you can find about tens of thousands of ants in a single colony and the soil and landscape surrounding property can be inhabited by more than one colony. This is one of the reasons why ants are difficult to eradicate.
COMMON TYPES OF ANTS
Today, the earth is populated with about 14,000 ant species, but then only a handful of them are likely to invade buildings and homes. Amongst them are:
Odorous House Ant – These species of ant are either dark brown or black, and their length ranges from 1/8th to 1/16th of an inch. They are also referred to as sugar ants and can be easily recognized. When these species of ant are crushed, they release a characteristic odor that is always likened to the smell of a rotten coconut.
Pavement Ants – These species of ant are usually black, and their length is 1/8th of an inch in length. The entrances to the underground structure of these species are generally likened to a volcano mounds. You can find pavement ants between landscape pavers and the crevices and cracks of pavements.
Carpenter Ants – These are the most abundant and native species of ants, and they prefer to construct their homes in wood that has been spoiled by water. Even though they potentially pave the way to operational damage, they, unlike termites, don't devour wood.
WHY DO I FIND ANTS AROUND MY HOME OR BUILDING?
The common goal of every ant is to protect and care for their colony- meaning they need shelter, moisture, and food. A single colony may contain from a few dozens to tens of thousands of ants. The exterior of ant nests includes flagstones, brick patios, wood piles, garden stones and under rocks.
The ants at home may nest behind insulation, wall voids or in and around woods that's previously damaged by moisture. Since they're constantly scavenging for food, you're most likely to find them invading your property or in your kitchen. An entire colony is occupied by about 10% of scavenging ants, and you need to be aware that ants can travel a very long distance just in search of harborage or food.
Once they're able to find a source of food, they'll use pheromones to form a scent trail which leads to and fro their nest. The trail will also serve as a path between the ant nest and their food source. Well, that's the reason why you'll often see ants marching along a single path with conformity or little irregularities.
ARE ANTS DANGEROUS?
Ants are generally categorized into two species. They could either be seen as wood destroying insects or as nuisance pests. Typically, these species are hazardous and can cause a severe threat to human health.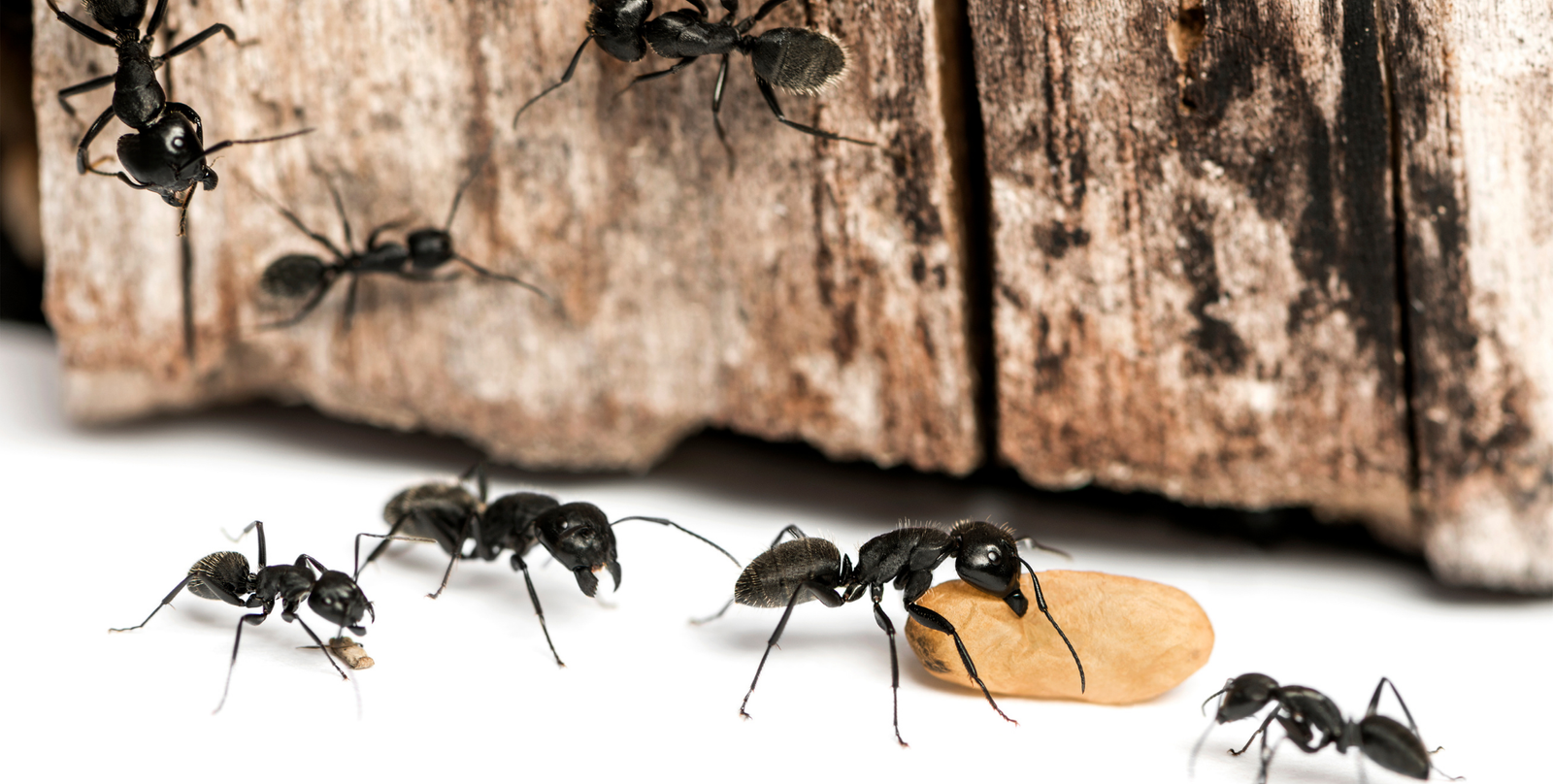 OUR APPROACH TO PEST PREVENTION
Effective pest mgt. is a process, not a one-time event. With our integrated pest manage- ment approach, we identify the best program for your needs based on scientific research and custom solutions. so you can rest assured that your home/business is getting maximum protection with minimum exposure. We will:

Investigate
we'll inspect your home from top to bottom, inside and out, for current or potential pest problems
Keep Watch
we'll treat the interior of your home and install pest monitors in critical areas such as kitchens, baths, utility rooms, and garages

Protect
we'll treat the perimeter of your structure with the appropriate materials, remove all accessible spider webs and wasp nests, and use the safest methods available,

Follow up
we'll stay in touch between our regularly scheduled visits and respond to any immediate needs
HOW DO I GET RID OF ANTS?
Because of their colony development and foraging habits, ants can be particularly difficult to do away with. Within a particular colony, only a handful of ants are actively engaged in looking for food and some ants forage at a property location that is very far from their nest, this makes it particularly difficult to inspect and locate the colony.
Well, that's the reason why you need our services at Adibug. For the best results, we suggest that you go for our residential pest control services. Using our regular treatment visits, we'll help you to get rid of ants and other prevalent household invaders. Our services are effective and backed by a pest-free pledge. If the pest returns by any means, we'll return for a free service. Want to learn more about our services? Please contact us.
CAN I CONTROL ANT INFESTATION MYSELF?
The "do it yourself" method of ant control often comes with a lot of hassles and challenges. It's also not effective to use "over the counter" pesticide consumer products because in most cases, they can't be tailored to treat the kind of infestation you have at your home.
Our pest control professionals are trained at finding out ant trails around properties. No matter the situation, they will help you to locate and eradicate the whole colony- thus, you'll no longer have to use pesticides on the inside of your home.
HOW SOON CAN YOU GET TO US?
At Adibug, we're always proud of our speedy and matchless service delivery. No matter the situation, we try as much as possible to be with you the same day you reached out to us. Or worst still, the next day.
HOW CAN I PREVENT ANT INFESTATION IN THE FUTURE?
Preventing ant infestation can be very difficult especially when you're dealing with structural infesting species like carpenter ant or odorous house ant. Well, you can reduce the instances of infestation by cutting back foliage (ornamental grasses, ivy or shrubs) that are in contact with the exterior walls or foundation of your homes. These bridges make it very easy for ants to enter your building or homes. Our professionals will access your property and provide a customized solution that'll address your infestation problem.